Help us EVOLVE!!!
From….
 Prouse Pottery & Soap Co!
To…
Help us with our move and upgrade to a new and much bigger teaching/makers studio and retail shop
Moving to 88 Ottawa St. North September 1st.
We are hoping to raise at least $10,000 by pre-selling Pottery Classes, soap/bath & body workshops as well as, selling products and wares we create within the studio.
$10,000 would allow us to build the studio (paint, build racks, tables, shelving, etc) and move, upgrade equipment (such as our kilns, and pottery wheels), build a new website (which will allow for online sales), purchase a new sign, and cover the deposits for the new studio. A much needed breath of fresh air.
Purchasing items, wares, and classes will be a great way to support this evolution! Not only will you be contributing to make this studio come to life, but you will become a part of it! You will be able to experience clay with your own hands, smell the soap and other goodies with your nose, not to mention the benefits of simply slowing down and taking time to get creative. The art and wares you make will be yours to keep… to display in your home, use in your kitchen, to pamper yourself, or give as a gift for someone special, And in the case of pottery… to one day, in thousands of years, confuse
archaeologists!!!
Thanks
The Prouse Team
Here is the link to our Indiegogo crowdfund
https://igg.me/at/MudandSuds/x/17921740
We are a studio, geekery, and shop. In our studio we create a wide array of useful, functional, and decorative pottery. Coupled with our pottery, we produce a fanciful range of handcrafted soaps, and bath & body products using high quality, natural ingredients.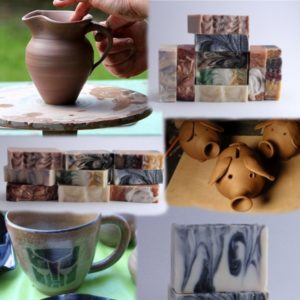 In our studio we offer a myriad of classes and workshops for all levels and skill types.
A few examples are: Intro to clay, Intro to the pottery wheel, Intro to soapmaking, Bath Bombs 101, and our Scentology Workshop.
Be sure to check our workshop pages for full descriptions.
Also throughout the year we also offer other creative workshops with guest instructors including: painting, drawing, fiber arts, and so much more.
Our main mission: to create simple and modest products that can be used daily and still be beautiful additions to your home. We believe in sustainability and providing steadfast handcrafted products.                                                                                              We truly believe that handmade is made with love… and we love what we do.
In addition to our pottery, soap, and bath & body products we have our "League of Extraordinary Artisans" a group of crafty individuals who bring their incredible talents and creations in our humble little shop. Their work includes everything from photography to jewellery, paintings to knits, candles to geekery, and so much more.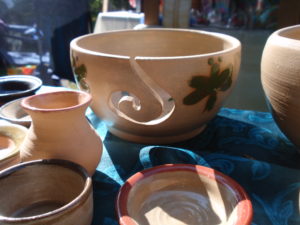 We are located at 116 Ottawa St. North, Hamilton, Ontario.
Moving to 88 Ottawa st. North September 1st.
Open 6 days a week to serve your needs!